Granola is a popular breakfast option that we've all seen on grocery store shelves. Even though it can be less time-consuming to snag one from the market, baking a batch of granola at home is far more rewarding. With a homemade version, you can create your favorite combination of fruit, nuts, grains and seeds.
When making granola, some people prefer to use a recipe, where others take a more rustic approach. If you're planning to wing it, choose your ingredients for a fresh, healthy flavor that will make you want to wake up in the morning.
Start with oats
. Rolled oats (like old-fashioned oats) are the base of most types of granola. Add small amounts of other grains, such as wheat bran or ground flax seed. For a large batch of granola that will last two people about four weeks, I use 4 cups of oats.
Go Nuts
. Whether your afternoon snack preference is walnuts, almonds or hazelnuts, nuts add healthy fats to your granola. Use any combination you like and chop them as finely as you wish for varying flavor and textures.
Dress your oats
. Use fat to blend your granola and make your mixture cohesive. Whisk one part fat with two parts sweetener for a nice, even blend. Some granola chefs use a combination of butter and oil while others opt for oil rich in monounsaturated fat to reap those heart healthy benefits.
Bake, bake, bake
. Most granola bakes at a medium-low heat, such as 300°F for 30 to 40 minutes. Toss the granola to redistribute it in the pan every ten minutes or so. Let cool for about a half hour, or until granola is crispy and dry.
Think fruit
. Once the granola is cooled, toss it with your favorite dried fruit for added sweetness. I love dried apples, cherries or cranberries but hit your nearest natural foods store for a wider selection of exotic and tropical fruits like mango or papaya.
Granola can be high in calories but is very calorie dense. I like to use my homemade granola on top of yogurt so I can control my portions.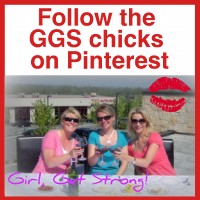 Pin It Now!