Stuffed Spaghetti Squash
Vegetarian & Gluten Free (Serves 2)
1 medium spaghetti squash (total of about 4 cups)
1/2 tsp garlic powder
1/3 cup cottage cheese
1 egg white
1/2 cup tomato sauce or jarred spaghetti sauce
1/2 cup shredded mozzarella and Cheddar blend
Sprinkle of Parmesan cheese for the top once it is baked
Optional toppings: Fresh basil, Parmesan cheese, crushed red pepper, green onions
Prick the squash with a fork several times. Pop in the microwave for about 6 minutes depending on the size. It should be soft. Cut in half length wise. Scoop out all of the seeds.
With a fork, scrap the inside of both halves to make it look like spaghetti. In a separate bowl, add the pulled squash and tomato sauce and basil. Fill the inside with 1/2 of this mixture evenly between 2 halves. Mix cottage cheese and egg together with garlic powder. Add cottage cheese on top of sauce mixture and top the rest of sauce mixture. Finish with mozzarella/ cheddar cheese. Pop it back in the oven for about 10-15 minutes, or until the cheese starts to bubble and brown. Pull it out of the oven, let cool for a few minutes, sprinkle with basil, Parmesan, and/or crushed red pepper and serve! This is so much cheesy goodness, you'll forget that you're also getting in a few servings of vegetables. : )
You could use a casserole dish instead of baking it in the spaghetti squash but hey, why bother with the dirty dish!
Calories 99 Fat 5g Fibre 1 Carbs 11 Protein 5 grams
WW Points Plus 3+
Adapted from I heart Vegetables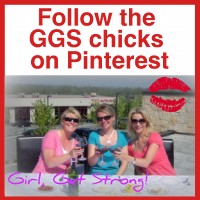 Pin It Now!